About Us
Your Guide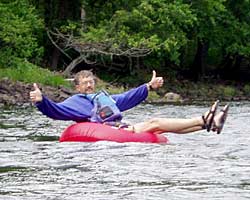 Registered Master Maine Guide, Steve Toothaker, is the owner and operator of Bullfrog Adventures. Steve has spent a lifetime in the Maine woods. He is a native of the state with roots that date back through ten generations of native Mainers. Steve's love of the outdoors and of outdoor activities were learned as a young boy from tagging along behind his father and grandfather as they hunted, fished and trapped in the woods near their Newburgh home. He further developed his outdoor skills by becoming a Boy Scout during his teen years and later as an adult became a scoutmaster for the local scout troop in Newburgh. Now in his early
sixties Steve has been a Master Maine Guide for many years. For his own recreation he enjoys exploring new places by canoeing, hiking and camping with his wife. In the spring you might find him on Maine's downriver canoe racing circuit with his son Ben. Steve has also been a pioneer in the sport of whitewater tubing, perfecting the design of his river tubes and has guided many trips on the Dead and Kennebec rivers as well as many other smaller streams. He is a versatile individual who enjoys showing people the wonder of the outdoors and what it has to offer.
The Rest Of The Crew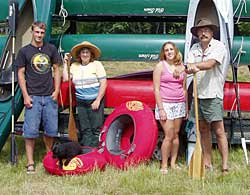 Steve's wife Tammy often books the trips, handles our Facebook page, drives the shuttle van and also manages the 8 site campground. Tammy is a recreational paddler who enjoys calmer waters and pleasant scenery. For the past 40 years she has accompanied Steve on many of their excursions. Together they have done hundreds of canoe camping trips in Maine on the Kennebec and St. Croix as well as many of Maine's other lesser known rivers, streams, lakes and ponds. During the off season she is a teacher and reading specialist working with elementary grade students at a rural Maine school.
Ben and Sarah are Steve and Tammy's children. Both are now adults and are married. With their spouses they are pursuing their own passions in life. We still get together for an adventure now and then when they come home to visit. How quick our children grow up!!!
Our Facilities
During the off season months of September thru early June the business is run from our home in Newburgh. Once we get to the warmer days of summer we move to our summer office at our Caratunk
location. We have 39 nicely wooded acres on the hillside along US Route 201, a national scenic byway and a major route to Quebec city in Canada. The Kennebec river is on the opposite side of the road from the office and we do have a launch site in a beautiful little hidden cove nearby. We have a small 8 site campground on the hillside behind our office. There is a picnic table and a fire ring at each site. We also have two centrally located water faucets and four privy style restrooms. We also have showers and flush toilets available at our office, only a short walk from the campground. Campsites are $30 per site plus $2.70 lodging tax for the state of Maine. Check out our camping page for more details. Starting back in 2002, we cleared the Caratunk lot, designed the office building and campground and also have done all of the construction work ourselves. It's been a huge project and is still being improved on each year. (In our "spare" time) We hope you can come for a visit!